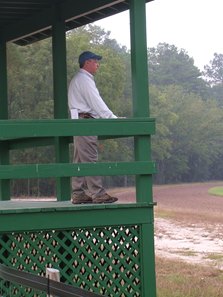 Kirkwood Takes Alternative Approach to Sale Workouts
Five horses from Kip Elser's consignment will gallop up to the sale.
When the under tack workouts take place March 26 for horses entered in the Fasig-Tipton Gulfstream selected sale of 2-year-olds in training, don't look for any of the entries from Kirkwood Stables to be doing a quick eighth-mile or quarter-mile down the lane.
At the behest of a client, the Kirkwood horses will gallop during workouts for the March 28 auction that will be held in the walking ring at Gulfstream Park in Hallandale, Fla. Monday's under tack show begins at 9 a.m., and Wednesday's sale starts at 3 p.m. (all times Eastern).
Kip Elser, who operates South Carolina-based Kirkwood, said the idea for the unique approach to showcasing his young horses' abilities came during a conversation at Saratoga in August.
"I ran into an old friend and former client at Saratoga, and he said, 'I think this pendulum (of fast workouts during breeze shows) has swung too far.' He said, 'Go to the fall sales and buy me a small group of nice horses and take them to the Gulfstream sale and just gallop them, don't breeze them.'"
Elser said "Gulfstream Gallop," the name under which the Fasig-Tipton sale juveniles were purchased, is designed to offer an alternative to the traditional methods of evaluating racing prospects.
"Without trying to disparage anybody else's way of doing business, we're going to try a way to give buyers just as good a way to evaluate these horses," said Elser, adding that buyers are astute and professional enough to look beyond workout times that do little to sort out the better offerings. "There are plenty of good horsemen out there who can judge a horse without having it go in some blazing time. Buyers need to have confidence in themselves. I think there are enough good judges out there who will trust their own judgment and just go out there and pick out some nice horses."
As 2-year-olds in training sales have soared in popularity—and sellers have become adept at getting their horses to go fast during the under tack shows—juvenile sales have, in some cases, become the end-all rather than a means to the end.
"We have created this situation ourselves. Consignors have gotten better and better at getting horses to go faster, but what has happened is that the preparation for a 2-year-old sale is no longer a part of the process of getting them ready to run. It is a very different process," the horseman said. "Theoretically, a 2-year-old sale should be a stop on the way to their first start. For some, it is the end of the process rather than a step along the way.
"When that train leaves South Carolina, there are how many steps on the way to the racetrack, whether it is Kentucky or New York or wherever? There are steps in the process. You go from middle school to high school and on to college. It is a steep pyramid, but it is a clearly defined path to get to the races."
Elser said buyers can have confidence the Gulfstream horses are galloping as part of a long-range plan, not because they have shown an inability to go fast.
"The first hurdle you have to get is the question of whether these horses were tired and found wanting," he explained. "They were never intended to do anything else. In my mind, I think this makes it a believable project. They were bought in the name of Gulfstream Gallop, and right from the day we signed the ticket and sent them home, that was the plan."
This is not the first time Elser has brought outside-the-box thinking to his sales approach. Kirkwood had horses gallop at juvenile sales when Elser was representing Seth Hancock and Claiborne Farm. Also, Kirkwood was one of the first North American operations to sell 2-year-olds in England, and it established a foothold in the South African 2-year-old sales sector.
"That is part of where this game will take you, if you let it," Elser said.
Other consignors, most notably Frank Stronach's Adena Springs operation, have showcased 2-year-olds in training by only galloping them in advance of an auction.
Elser said the horses in his pinhooking group "are not extremely expensive horses, but they are good value."
The Kirkwood consignment at Fasig-Tipton Gulfstream:
Hip 2, a Noble Mission  colt from the female family of multiple grade 2 winner Lewis Bay. The colt's half brother, Yulong Warrior, recently won a stakes race in the United Arab Emirates.
Hip 26, a Data Link  filly whose extended female family includes prominent broodmare Toll Fee.
Hip 88, an 

Exchange Rate

 colt from an active female family that includes multiple grade 3 winner Sailors Sunset.
Hip 136, a Liaison  colt out of a stakes-placed Pine Bluff mare who is from the family of multiple grade 1 winner Both Ends Burning.
Hip 137, a Blame  filly from the female family of 2001 Breeders' Cup Juvenile Fillies (G1) winner Tempera.