Courtesy of the BloodHorse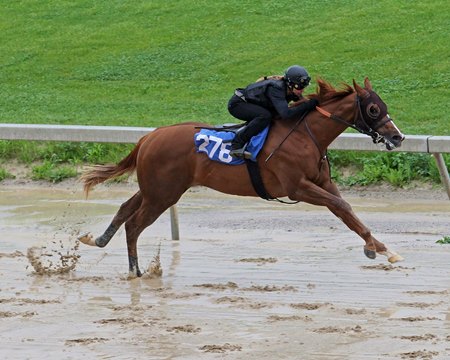 Mucho Macho Man Colt Flashes Speed in Sale Workout
Colt breezed an eighth-mile in :21 1/5.
With intermittent showers—some heavy at times—and moderate temperatures in the mid-70s, the May 16 second session of the under tack workouts for the Fasig-Tipton Midlantic 2-year-old sale was in stark contrast to the previous day's sunny, sticky weather with temperatures in the 90s.
Despite the elements, which began with a severe thunderstorm late Tuesday and continued off and on throughout the day Wednesday, the workouts in preparation for the May 21-22 auction at the Maryland State Fairgrounds near Timonium went off without a hitch, and the track seemed a little zippier as a result of the additional moisture.
Highlighting the day's works was the fastest quarter-mile breeze during the first two days of :21 1/5, turned in by a Mucho Macho Man  colt consigned by Kirkwood Stables as Hip 278. On Wednesday, nine juveniles cataloged for the sale shared the under tack show's fastest eighth-mile time of :10 1/5.
Kirkwood's Kip Elser said the bullet work was not a surprise, noting the colt had also worked fast in preparation for the Ocala Breeders' Sales March 2-year-olds in training sale before being bought back for $55,000.
"He was at OBS in March and breezed very well and was ignored," Elser said of the colt, who was a $95,000 purchase from Select Sales at the 2017 Keeneland September yearling sale. "He was a nice horse then, and he's a nice horse now."
With a Noble Mission  colt (Hip 365) sharing the second-fastest quarter-mile breeze time Wednesday, the speedy presence by the Kirkwood horses at Midlantic was a change from the consignment's workout protocol prior to this year's Fasig-Tipton Gulfstream sale in South Florida. Rather than subject his Gulfstream sale entrants to the rigors of timed workouts, Elser opted to showcase the group to buyers by having them gallop over the track.
"It wasn't that the (Gulfstream) sale horses couldn't (work fast)," Elser said, adding the gallop-only horses were well-received by buyers and sold well. "We chose to show people that they shouldn't have to. It turned out very well. For this sale, we turned it up a notch and had some horses that performed well."
Elser was among those who gave high marks to state fairgrounds maintenance director Don "Chief" Denmeyer and his crew for sealing and then harrowing the track and maintaining it throughout the trying conditions.
"You never feel good when you have (rain) jump up like that, but these guys have always done a good job at keeping this track safe," he said. "So was I worried about it being safe? No."